Mobile - Message.Anytime.Anywhere.
Mobile Communication has come of age. To survive and thrive in today's competitive business environment, companies must have the ability to serve critical business information quickly and securely to their clients. Businesses are looking for personal, new, creative and non-intrusive ways to reach their clients in today's highly mobile environment. Text messaging or Short Message Service (SMS) provides an effective medium for businesses to manage communication with their customers anywhere and anytime.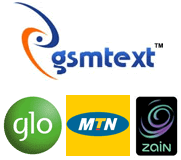 Websoft specializes in innovative SMS solutions that help businesses manage interactive relationships with their customers via mobile phones. Our SMS solutions and gateway, Gsmtext, simplifies and automate critical but common personal interactions to improve Business to Customer (B2C), Business to Business communication (B2B) and other critical business communications. Websoft has verified SMS coverage to the major GSM mobile network in Nigeria (MTN, GLOBACOM, and ZAIN) and other international networks. Our SMS solutions help you achieve this and many more:
High volume bulk SMS messaging to all networks in Nigeria
Schedule Messages to a later date
Mobile Marketing: Reach your target audience through the power of mobile marketing.
SMS Banking: real-time transaction SMS alerts.
Corporate Messaging: manage interactions at all levels of the business chain.